MY STORY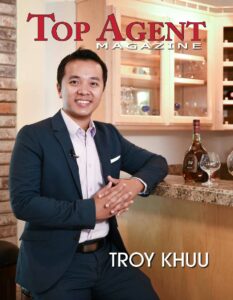 Troy Khuu began his real estate career over 10 years ago, coming from a background in marketing and advertising from various big companies. "I loved houses from the beginning." Troy recalls. He had been working in the management team of an advertising consulting firm for many years. With his extensive experience, Troy later got an offer from a real estate company in Silicon Valley to come work as a marketing lead. His main role was to build the company brand, design the marketing support system, recruit and retain the agents, drive sales. With Troy's contribution, the company grew sevenfold in both number of agents and revenue after just a couple of years. "During that time, I learned a lot from real estate sales, got inspired that I could do it too, and maybe even do it better", said Troy. The rest is history, and ever since he started as an agent, Troy has taken pride in helping clients achieve their real estate goals. He has consistently won many Top Producer awards and been recognized as a certified member of Top Agent Network nationwide.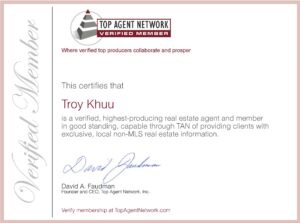 As an agent with INTERO, Troy primarily serves the Silicon Valley area, but has been known to travel throughout the Bay Area for his clients, sometimes even going as far as Sacramento. About 70% of Troy's business comes from repeat and referral clients, an impressive feat that speaks to the trust and loyalty he inspires. "To me, trust is everything," Troy says. My clients know I always put them first and fight very hard for them. Troy's straightforwardness, great negotiation and communication skills also set him apart.
"My clients always know what is going on in the transaction," Troy explains. "I always tell my clients, there will be no surprises when you work with me. Surprises are only good for your birthday! In business, especially real estate, there should not be any surprises. I want them to know what's going on even before they ask me. Plus, I always negotiate with clients' best benefits in mind, either buying or selling. As a result, clients feel very comfortable working with me, and many of my clients have become my friends."
When it comes to marketing, Troy uses his marketing background to ensure optimum exposure for his listings. His comprehensive approach includes marketing online and on social media, as well as virtual tours, brochures, email blasts, and just about everything else. Through his company, INTERO, Troy also has access to their global network, which allows him to gain exposure to international buyers as well.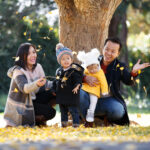 Community involvement is important to Troy, and he enjoys being active in Morgan Hill, where he and his family live. Troy and his family volunteer at local public events, and Troy also sometimes sponsors events through his business as well. They consistently donate to various charity organizations during a year as believers in paying it forward. When he is not working or giving back, Troy loves spending time with his wife and two kids. They enjoy hiking, travelling, and getting out-doors together.
In the future, Troy says, "My plan is very simple: I want to help as many clients as possible achieve their goals in real estate, and I want to do it one happy client at a time. I don't set my goals by volume, I focus on how many happy clients I'm able to help each year. I strongly believe that when you work genuinely from your heart, your business will grow tremendously on its own."
BUYING OR SELLING?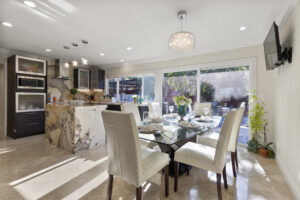 Whether you're buying or selling a home (or both), your success hinges upon the expert advice and services provided by your real estate agent.
I'm committed to providing my clients with professional services based on my experience, knowledge and skills.
I've filled this website with tips and resources to help you quickly understand what you need to know — and how I deliver the services designed to meet your needs.
If you're selling click here to learn more about the process and how to ensure your property sells quickly and for the highest price possible.
If you're buying click here to discover how to find your next dream home and get it, without overpaying.
I'm the agent who specializes in this local market – and has the reputation for putting you, the client, first. Any time you want information on the market or are ready to buy or sell a property – contact me. There's no obligation.
I'm looking forward to learning more about your needs and goals.